IT'S TIME TO BE YOUR BEST
EXCLUSIVELY
for Choir Directors and Business Owners
Designed and Implemented by Russell Scott
There has never been a better time to
work ON your business rather than just IN your business
ELIMINATE 95% OF YOUR ADMINISTRATION
Your Workflow defines your work.
As choir owners, you interact with a lot of people. Keap for Choirs will handle the customer journey so you don't have to do it yourself.
Eliminate mundane and reptitive tasks by using Keap for Choirs which will  save you up to 95% of your administration time.  It will help you keep track of everything in one single platform specifically designed for you – and it's been designed exslusively for Choirs!
Stop wasting hours every week on outdated, inadequate software or tedious tasks – automating routine processes frees up more time to spend on what's important:  the music, the creativity and the love for what you do, without the need of additional staff, suppliers or freelancers.
Choir Directors running their choirs commercially often believe their choirs are 'lifestyle businesses' which can't make much money.  This is a myth. We can implement strategies to help your choir become the best it can be, musically, commercially and socially.
With almost 20 yeaers to experience at board level, we have worked with choirs of all shapes and sizes to help them achieve the success, sustainability and profitability, helping choir owners to realise their dreams and passions.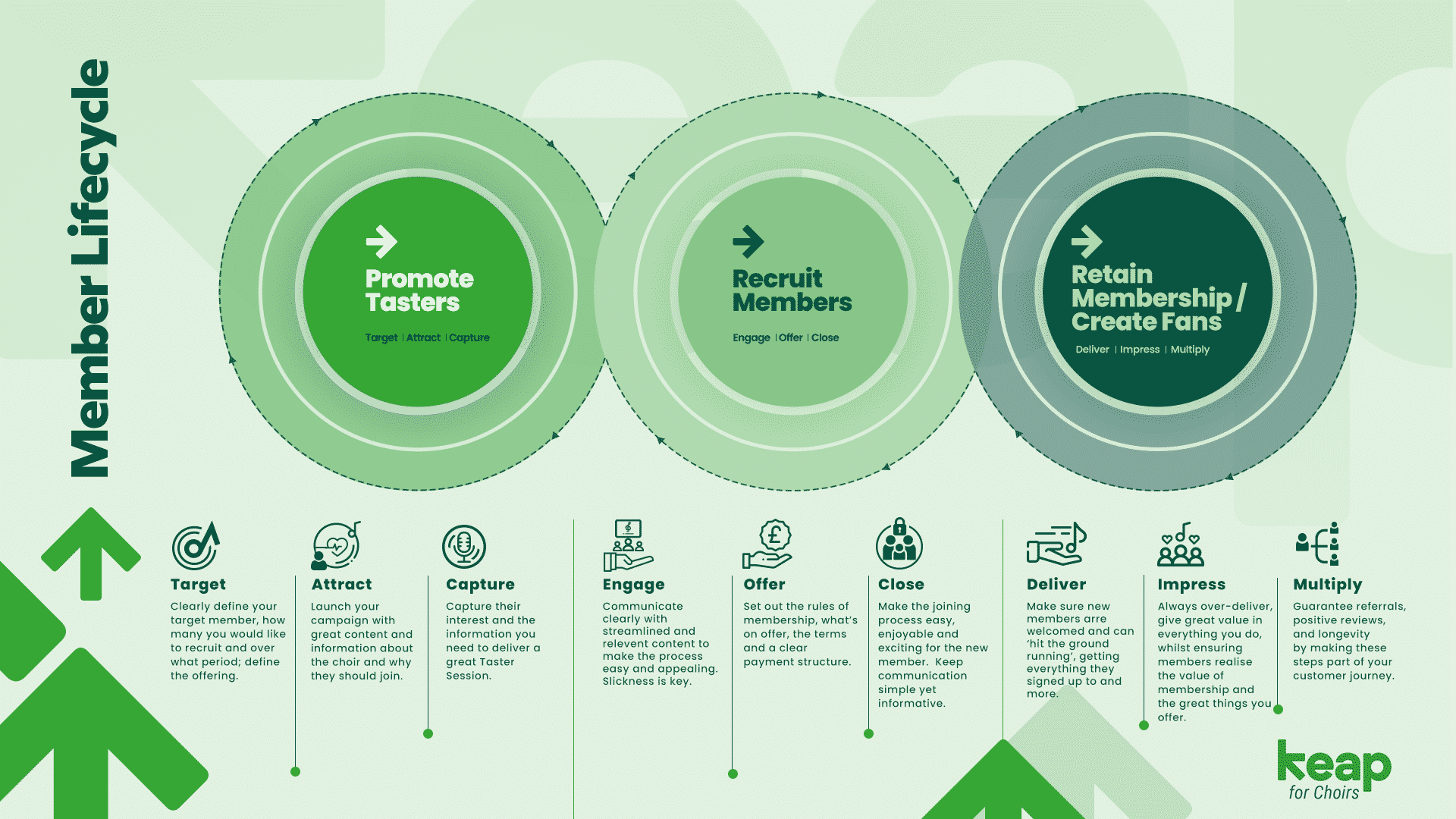 Get Started with 3 Automation Campaigns EXCLUSIVELY for Choirs
Taster Campaign
Recruitment of new members whether online or in person
Taster Campaign
From initial form completion to automatic registering on Zoom, access to music, reminder emails, and follow up without the need of interaction.
Membership Campaign
New Members or
Ex-Members
Join the Choir
Membership Campaign
Membership Processing emails, Subscription and Payment Setup, Access to Website Members Area, Follow Up Emails, automated with a personal touch.
Cancellation Campaign
For those times when members want to leave the Choir
Cancellation Campaign
Acknowledgement emails, updating of records, automatic restriction to wbesite access, cancellation of subscriptions and all without the need or personal contact.
Full training included PLUS personalised training videos to help support your learning
Keap for Choirs has endless capabilities
AUTOMATION BENEFITS
CASE STUDY
What benefits has automation brought to our choir?

All our data is in one place, which makes searching and updating so much easier
The quality of our communication has improved. All emails are now personal, not generic, are branded to make it clear that they come from us and can be targeted to send a specific message to the people we want to receive it; no longer do we have to send every message to every choir member

Repetitive processes, such as enquiries about joining the choir and becoming a member, registering for rehearsals and any updates to membership terms are now handled automatically, only requiring manual intervention when it is appropriate
There is no longer a need for endless reminders and post-it notes to remember to do things; the system reminds us
Our website is now fully integrated with our data systems so that members can easily access the resources they need

An additional, significant benefit is that to automate we have had to evaluate every aspect of how we run the choir. This has meant that we have updated and changed processes which were time consuming to administer and brought absolutely no business benefit.

There is a learning curve to install automation, which is at times steep, but the benefits are worth the effort. What automation does do very successfully is to free up time and energy to focus on important musical and creative issues knowing that your choir's administration is running successfully in the background.

Susan & Chris Cox
Grand Union Community Choir
There are two options to choose from, either a fully customised solution built from the ground up, or an 'Out of the Box' customised subscription option.  Whichever you choose, we will ensure the solution is the right one for your organisation and allow you to reap immediate and sustainable benefits whilst getting you a ROI, making the system pay for itself in no time at all.
Moving to Keap has been a leap of faith to put it mildly but now that it is installed and working, it is nothing short of a miracle. The automation means no more endless toing and froing of emails with new members. No more sitting down to reply to a few emails and still finding myself still there two hours later. I can't always be trusted to send the appropriate emails at the right time but Keap can. I can't always be relied upon to remember to do various tasks, Keap will remind me. Keap means that the mundane tasks I have to do are fewer and I have more time for interesting artistic projects. Keap has lifted a weight from my shoulders. Working with Russell is a joy. His experience and knowledge means he can help to make running a choir easier and more efficient. He is positive, attentive and a good listener. He has a brain the size of a planet and the energy of a spaniel on speed!
Working with Russell is exciting, rewarding and fun. He brings his own substantial experience and knowledge to your problems and challenges and asks probing questions to help you decide what needs to be done. He then helps and supports you to ensure that the processes you have agreed are implemented and delivered effectively. His positivity and energy mean that even the most difficult decisions and challenges can be faced and overcome. Russell is thorough and persistent. He does not stop until he is happy that the solution is fully working and meets your needs. When any follow up is required, his response is outstanding both in speed and technical awareness. Russell is an excellent communicator. He explains things clearly and thoroughly and has helped us write clear and effective messages to communicate with members of the choir. Thanks to his commitment to ensuring we are doing the right things for our business we are now set up and ready to meet the challenges of returning to singing post-pandemic.
Discover the
POWER of AUTOMATION
Start making your business run automatically and free up your time to do what you thrive at most rather than repetitive tasks and administration.
THE FIRST STEP IS SIMPLE.
Keap for Choirs will revolutionise your business and the way you work.
You will be BLOWN AWAY by the results!
To book your complimentrary Keap for Choir demo
please complete the form.
The online demo lasts approximately 45mins and will be tailored to your organisation.  You will be taken through the software, it's capabilities and application as well as give you an insight into automation and the opportunities available.
There is no charge for the demo.